Filmcity Power Camera Slider 48"


PRODUCT HIGHLIGHTS


This Product is on "backorder for 14 days". So any order of this product will be shipped after 10 December, 2016.


Filmcity power camera slider is best video slider designed to create Hollywood type production shots with upgraded technology, comfort and quality. The Versatile camera slider is upgraded with a smart bush technology for extreme smooth and noise proof slides. The rock solid camera plate on self-lubricating rails supports wider variety of modern cameras and rubberized end adapters prevents scratches on delicate surfaces. The secure tripod mount plate allows to center-mount the video slider on tripod via 1/4"-20 and 3/8"-16 threaded holes or also supports the camera slider using two tripods as well. Get the best value gear in your production kit.



"WHAT YOU SEE IS WHAT YOU GET"




FEATURES


- Travel friendly video slider.
- Center and ends tripod mounts.
- Lightweight and portable.
- Professional grade design and manufacture.
- Quick release for quick mounting and dismounting of camera.
- Rubber levelling feet prevent scratching when mounted on a delicate surface.
- Ensures smooth sliding movement.

Included

- Filmcity Power Camera Slider
- " Storage Bag

Testimonials

It is Super Smooth, slider is really good, slides smoothly and built well..........
By Mr. Nicol, Russia


Fabulous product! Exactly what I wanted for doing outdoor shots, I was impressed with the build quality, action in the field, and Price.
By Mr. Rayna, Serbia


It worked great and for the Price, it's awesome. I have done awesome shots with it.
By Mr. Herb, Spain


Mind - Blowing item! Really smooth & high flexibility, very nicely & works like a magic, prompt delivery. Everything is secure!
By Mr. Harry, Maxico


Great deal with great features! Nice piece,perfect balance, durable, reliable & effective customer service.
By Mr. Potter, Turkey


SPECIFICATIONS

Filmcity Power 28" Portable Camera Slider (FC-SL-28)

Filmcity Power 36" Portable Camera Slider (FC-SL-36)

Filmcity Power 48" Travel Camera Slider (FC-SL-48)

Weighing capacity

40kg/88lb.

30kg/66lb.

25kg/55lb.

Product weight (with packing)

4.5kg/9.9lb

5.2kg/11.4lb

6.1kg/13.42lb

Product weight (without packing)

3.8kg/8.3lb

4.3kg/9.4lb

5.1kg/11.2lb

Camera Mounting

1/4"-20 and 3/8"-16

1/4"-20 and 3/8"-16

1/4"-20 and 3/8"-16

Tripod Mounting (at center & end feet)

1/4"-20 and 3/8"-16

1/4"-20 and 3/8"-16

1/4"-20 and 3/8"-16

Travel Distance

24"

32"

44"

Width of Rails

25mm

25mm

25mm

Center Rail Distance

60mm

60mm

60mm

Material

Polyamide resin

Polyamide resin

Polyamide resin

Rods Material

Aluminum construction

Aluminum construction

Aluminum construction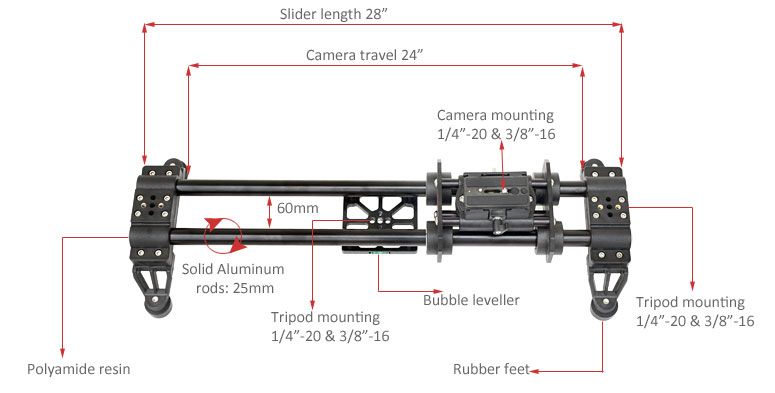 for 28" Portable Slider
for 36" Portable Slider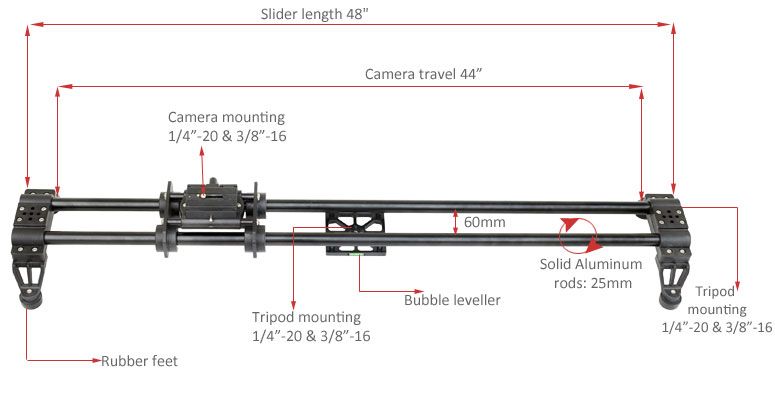 for 48" Portable Slider
Discover the innovative features
| | | |
| --- | --- | --- |
| Rubberised End feet | Robust Camera mount | Quick tripod mounting |


BUSH TECHNOLOGY


Bush technology offers smooth and noise free operation that allows slider dolly to capture extremely fluid movement shots.

IMAGE GALLERY



The Supportive accessories are for demonstration purpose only.