DJI Spark in Alpine White, Sunrise Yellow, Sky Blue, Meadow Green and Lava Red


When Spark takes off from your hand, it automatically enters Gesture Mode. This features new advanced gesture controls like PalmControl, which lets users control Spark with hand movements. In Gesture Mode, you can also send Spark up and away from you, take a selfie, and call it back with just your hands.
"Controlling a camera drone with hand movements alone is a major step towards making aerial technology an intuitive part of everyone's daily life, from work and adventure to moments with friends and family," said Paul Pan, Senior Product Manager at DJI. "Spark's revolutionary new interface lets you effortlessly extend your point of view to the air, making it easier than ever to capture and share the world from new perspectives."
Spark has been designed to be the perfect lifestyle accessory you can take anywhere. It fits easily in almost any bag and weighs 300 grams – less than a can of soft drink. Spark is ready to launch within seconds whenever inspiration strikes and can be operated by a remote controller, a mobile device, or hand gestures alone. Spark will be available in five different colours: Alpine White, Sky Blue, Meadow Green, Lava Red, and Sunrise Yellow.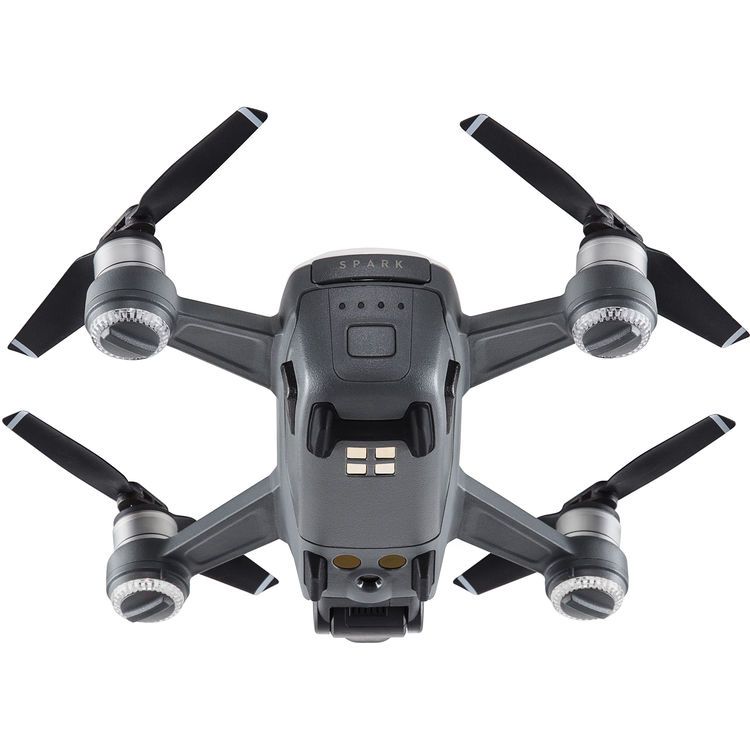 Shoot Like a Pro
Spark houses an impressive camera with a 1/2.3" CMOS sensor that captures 12 megapixel photos and shoots stabilised HD 1080p videos. Spark's 2-axis mechanical gimbal and UltraSmooth technology dramatically reduce shake and rolling shutter effect to capture cinematic shots effortlessly.
Spark includes many previous DJI drone shooting modes with two new additions: Pano and ShallowFocus. In Pano Mode, the camera creates horizontal or vertical panoramas by automatically adjusting its gimbal and heading, taking a series of pictures and stitching them together. ShallowFocus allows you to put part of a picture into sharp focus while the rest of the image is softened, creating photographs with a shallow depth of field.An array of filters and automatic editing templates available in the DJI GO 4 app enables creators to quickly edit videos and share them directly to Facebook, YouTube, Twitter, Instagram, and other social media platforms.


Delivery Content:
• DJI Spark
• 6 Propellers
• 1 Intelligent Flight Battery
• Charger (Plug)
• Micro USB Cable
• Storage Box
Specifications
Aircraft
Max Ascent Speed

9.8 ft/s (3 m/s) in Sport Mode without wind

Max Descent Speed

9.8 ft/s (3 m/s) in Auto Landing Mode

Max Speed

31 mph (50 kph) in Sport Mode without wind

Max Service Ceiling Above Sea Level

13,123 feet (4,000 m)

Max Flight Time

16 minutes (no wind at a consistent 12.4 mph (20 kph))

Max Hovering Time

15 minutes (no wind)

Operating Temperature Range

32° to 104° F (0° to 40° C)

Satellite Positioning Systems

GPS/GLONASS

Hover Accuracy Range

Vertical: +/- 0.1 m (when Vision Positioning is active) or +/-0.5 m




Horizontal: +/- 0.3 m (when Vision Positioning is active) or +/-1.5 m

Transmitter Power (EIRP)

2.4 GHz




FCC: 25 dBm; CE: 18 dBm; SRRC: 18 dBm




5.8 GHz




FCC: 27 dBm; CE: 14 dBm; SRRC: 27 dBm

Operating Frequency

2.400 - 2.483 GHz; 5.725 - 5.825 GHz

Takeoff Weight

300 g

Dimensions

143×143×55 mm

Diagonal Distance (propellers excluded)

170 mmm
3D Sensing System
Obstacle Sensing Range

1-16 ft (0,2-5 m)

Operating Environment

Surface should be larger than 20x20 cm and enable diffuse reflection, with reflection rate >20% (eg. wall, tree, people)
Camera
Sensor

1/2.3" CMOS Effective Pixels: 12 MP

Lens

FOV 81.9° 25 mm (35 mm format equivalent) f/2.6




(shooting range: 2 m to ∞)

ISO Range

Video:100-3200; Photo 100-1600

Electronic Shutter Speed

2-1/8000 s

Image Size

3968×2976

Still Photography Modes

Single Shot




Burst Shooting: 3 frames




Auto Exposure Bracketing (AEB): 3 bracketed frames at 0.7 EV bias




Interval: 2/3/5/7/10/15/20/30/60 s

Video Resolution

FHD: 1920×1080 30p

Max Video Bitrate

24 Mbps

Supported File Systems

FAT32

Photo Format

JPEG

Video Format

MP4 (MPEG-4 AVC/H.264)
Remote Controller
Operating Frequency

2.412-2.462 GHz; 5.745-5.825 GHz

Max Transmission Distance

2.412 - 2.462 GHz (unobstructed, free of interference)




FCC: 1.2 mi (2 km); CE: 0.3 mi (500 m); SRRC: 0.3 mi (500 m)




5.745 - 5.825 GHz (unobstructed, free of interference)




FCC: 1.2 mi (2 km); CE: 0.18 mi (300 m); SRRC: 0.7 mi (1.2 km)

Operating Temperature Range

32° to 104° F (0° to 40° C)

Battery

2970 mAh

Transmitter Power (EIRP)

2.4 GHz




FCC: ≤26 dBm; CE: ≤18 dBm; SRCC: ≤18 dBm




5.8 GHz




FCC: ≤28 dBm; CE: ≤14 dBm; SRCC: ≤26 dBm

Operating Current/Voltage

950 mAh @3.7 V

Supported Mobile Device Size

Thickness range: 6.5-8.5 mm

Max length: 160 mm
Intelligent Flight Battery
Capacity

1480 mAh

Voltage

11.4 V

Max Charging Voltage

13.05 V

Battery Type

LiPo 3S

Energy

16.87 Wh

Net Weight

Approx. 0.2 lbs (95 g)

Charging Temperature Range

41° to 104° F (5° to 40° C)
Gimbal
Controllable Range

Pitch: -85° to 0°

Stabilization

2-axis mechanical (pitch, roll)
Vision System
Velocity Range

≤22.4 mph (36 kph) at 6.6 ft (2 m) above ground

Altitude Range

0-26 ft (0 - 8 m)

Operating Range

0-98 ft (0 - 30 m)

Operating Environment

Surface with clear patterns, enables diffuse reflection with >20% reflection rate Adequate lighting (lux>15)
Wi-Fi
Operation Frequency

2.4 GHz/5.8 GHz

Max. Transmission Distance

100 m(Distance), 50 m(Height) (Unobstructed, free of interference)
Charger
Input

100-240 V; 50/60 Hz; 0.5 A

Output

5 V/3 A; 9 V/2 A; 12 V/1.5 A
Recommended Micro SD Cards
Model

Sandisk 16/32 GB UHS-1 Micro SDHC




Kingston 16/32 GB UHS-1 Micro SDHC




Samsung 16/32 GB UHS-I Micro SDHC




Sandisk 64 GB UHS-1 Micro SDXC




Kingston 64 GB UHS-1 Micro SDXC




Samsung 64 GB UHS-I Micro SDXC