SARAMONIC BMCC-A01 two-channel XLR audio adapter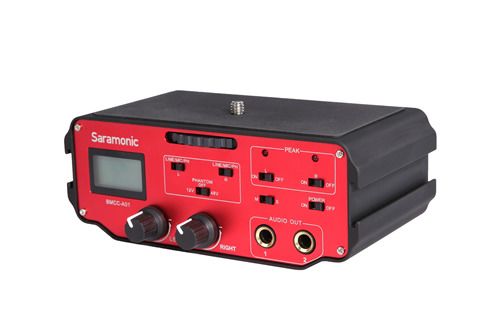 A wide-variety of professional audio devices like XLR mics, wireless mics, boom mics and mixing boards can be connected to the camera via this adapter.
Audio from your microphones will be passed to your camera by BMCC-A01 with or without the use of a 9V battery. Advanced functions such as level meter, 12V/48V phantom power and LED indicator are available by using a battery.
It allows you to record high quality audio directly to the camera, eliminating the need of a separate audio recording
Overview
Inputs:
Balanced Left and Right XLR inputs.
Output:
TRS 1/4" outputs: OUT 1 and OUT 2
LIN/MIC/PH:
Selects LINE when camera is set to LINE input.
Selects MIC when camera is set to MIC input.
Slects PH when any channel need a phantom power.
PH (Phantom) Voltage:
Selects phantom voltage to 12V, 48V or OFF.
LED Light power switch:
Open or close Warning Red LED light.
VU meter:
Indicates the sound level in dB for each channel.
LEFT and RIGHT Trim Controls:
Individually adjust output levels of each channel
M/S switch:
Select Mono or Stereo output mode.
Power switch:
Main power switch for BMCC-A01
Specification
MIC 0 dB on the Level meter at -44 dBu input
LINE 0 dB on the Level meter at +10 dBu input
Unity
Frequency Response
10Hz to 100kHZ (+/-0.5 dB)
THD
Less than 0.01% @ 1 kHz, -30 dBu input
S/N Ratio
80 dB @ 1Khz, -30 dBu input
Level Meter
-18 to +3 dB in 3 dB increments
Battery Type
One 9 volt alkaline or lithium battery
Battery Duration (no phantom)
6 hours typical with alkaline battery
12 hours typical with lithium battery
Dimensions
L 155 x W 98 x H 64 mm
Weight