The new CAME-SINGLE is one of the first commercially available 3 Axis 32 bit Basecam controlled gimbals to offer brushless motors with Encoders. Encoders are often used in Robotics for highly accurate monitoring of motor position. Some of the benefits of using Encoders are to: prevent motors from losing synchronization and skipping steps, provides important information about frame and camera angles, decreases power consumption (longer battery life), increases Torque, increases precision of stabilization, and more.​
Although Brushless Motors with Encoders have been available, the software used to control gimbals have only recently added support for Encoders. The new CAME-SINGLE with Encoder technology is truly advanced when compared to other systems.
The design of the CAME-SINGLE allows for one hand operation. A 1/4 and 3/8 thread is located under the handle for mounting options. The internal rechargeable batteries are fitted inside the pistol grip handle and the built in Joystick can be used for controlling camera positions and for changing modes.
The CAME-SINGLE has a quick relase camera plate and is tool-less adjustments for easy and fast camera balancing. The size of the CAME-SINGLE is perfect for mirrorless cameras such as the Panasonic GH4, Sony A7s | A7RII, and BlackMagic Pocket Cinema Cameras.
We have made changes to the CAME-SINGLE Battery. The original version required you to remove and recharge the batteries. The new version of the CAME-SINGLE has internal rechargeable batteries with higher Voltage built into the handle which allows for more power and stability to the system. This change allows the CAME-SINGLE to operate for up to 20 hours.
Key Features:
Full 3 Axis Stabilization

Built in Joystick Control

32bit Controller + Brushless Motors with Encoders

Tool-less Design Easy to Balance + Quick Release Camera Plate System

New Encoder technology is more efficient. Batteries can operate up 20 hours when fully charged.

Larger frame than most pistol-grip Gimbal Systems allows cameras to fully Tilt up and down.

Larger motors when compared to other pistol-grip gimbals.

1/4"-20 thread mount on side of handle to support mounting a smartphone or monitor.

1/4" and 3/8" threaded mounts under handle; to attach the CAME-SINGLE to different equipment.

Comes with Hard Flight case with extra room to store your camera.

Machined Aluminum Lightweight and Durable Build Quality.

Lightweight for easy carrying. The net weight of the CAME-SINGLE is only 1.2kg

Max payload 1.2kg (2.6 lbs). Works with Sony A7s, Panasonic GH4, BMPCC, etc.
The CAME-SINGLE Includes
CAME-SINGLE 3-Axis Gimbal Stabilizer

Hard Flight Case

Battery Charger
Personal View Test: Came Single Gimbal Video 1: Unboxing and overview from Dieter Knüttel on Vimeo.
Caution
:
in
the new models
, the batteries are
permanently installed
.
You have
power
for
20
hours.


Personal View Test: Came Single Gimbal Video 2: Scenes taken in a car. from Dieter Knüttel on Vimeo.
Personal View Test: Came Single Gimbal Video 3: Action Scenes with a dog from Dieter Knüttel on Vimeo.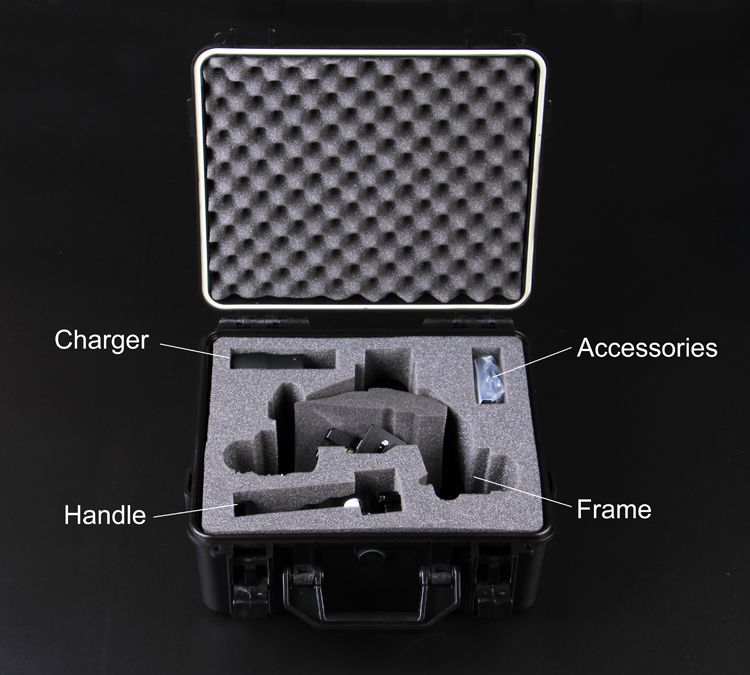 Option:
- CAME-Single Wireless Remote