Zacuto Gratical X



Micro-OLED EVF Display
The Gratical EVF has 5.4 million pixels on a 0.61" diagonal screen no bigger than the size of your thumbnail. This EVF supports high pixel density with unparalleled resolution, true blacks, gamma and contrast range. With Micro-OLED screens, each pixel is lit individually so that when one is turned off there is true black. This makes for a wider contrast range and more vibrant colors for a vivid, enhanced picture. And with a full display electronic viewfinder resolution of 1280×1024 you know you're getting the best picture possible.
Connections
The Gratical EVF includes HDMI and SDI inputs. HDMI and SDI outputs, and cross conversion comes standard with the Gratical HD and are optional features with the Gratical X. Weather resistant covers prevent moisture or debris from getting in open ports. Physical connections include both a ¼ 20 screw hole underneath the EVF and a rosette on the side.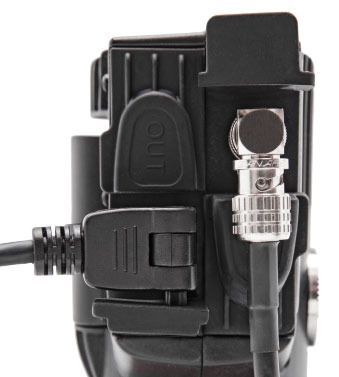 High Quality




Precision Optics
You'll be amazed with how sharp this EVF image is. The internal field of view is just the right size so that the image is large, but not so that your eye has to roam to see the entire image at once. It features a built in -1 to +4 diopter range and Zacuto's latest anti-fog coating formula. An auto-closing eyecup door prevents sunburn display automatically without any action by the operator.
Compatability
The Gratical HD and Gratical X EVF are compatible with every camera on the market today including the Canon C100 and C100 Mark II, C300, and C300 Mark II, C500, RED Epic, Scarlet, One, Dragon, Sony FS7, F5, F55, DSLRs, ARRI Amira, Alexa, AJA Cion, all Blackmagic cameras and many more.
The Gratical EVF can be used in place of any other electronic viewfinder including the Cineroid EVF 4C, RED Bomb, LCDVF, Alphatron EVF-035W-3G, Sony DVF-EL100, Sony DVF-L350, SmallHD DP4, Sidefinder, F&V Spectra HD4, Panasonic DMW-LVF1, ARRI EVF-1 and many more.


The Gratical X Micro OLED EVF uses the same extremely powerful FPGA dual core processor and Micro-OLED display as the Gratical HD. The Gratical X includes the following basis features:
HDMI and SDI inputs,

display adjustments,

color bars.
The Gratical X allows you to customize your Gratical with the features you need. Additional software features like
Custom Scaling/User Presets

Zebra Stripes - Customize width, color, thresholds

Vectorscope

Waveform (3D)

Histogram (RGB, Luma)

Audio Meters

LUT import and editing

Red Line Peaking (multi-color)

False Color

Frame Store Feature

HDMI output

SDI output

Cross Conversion - HDMI to HD-SDI, independent LUT on output stream
can be purchased a la carte and only in the Zacuto Onlineshop: Gratical-X Software


When you receive your Gratical X, you will need to register and activate it:
Product registration
Technical Specifications:
Micro OLED Display:
Power:
Voltage Input: 6-28V

Compatible with LP-E6 battery (7.8V 1800mAH LiON):




Run time - 4 hours constant run
Inputs:
HDMI - 1.4b compliant, resolutions up to 1080p/60

HD-SDI - Resolutions up to 1080p/60, loop out
Video Processing Features:
Color Processor - RGB, saturation, brightness, contrast

Test Pattern - (color bars & Macbeth)

Four programmable buttons

Frame Rates - 23.98p, 23.98PsF, 24p, 24PsF, 25p, 25PsF, 29.97PsF, 50i, 50p, 59.94i, 60i, 60p