Kinefinity TERRA 6K
Super 35mm cinema camera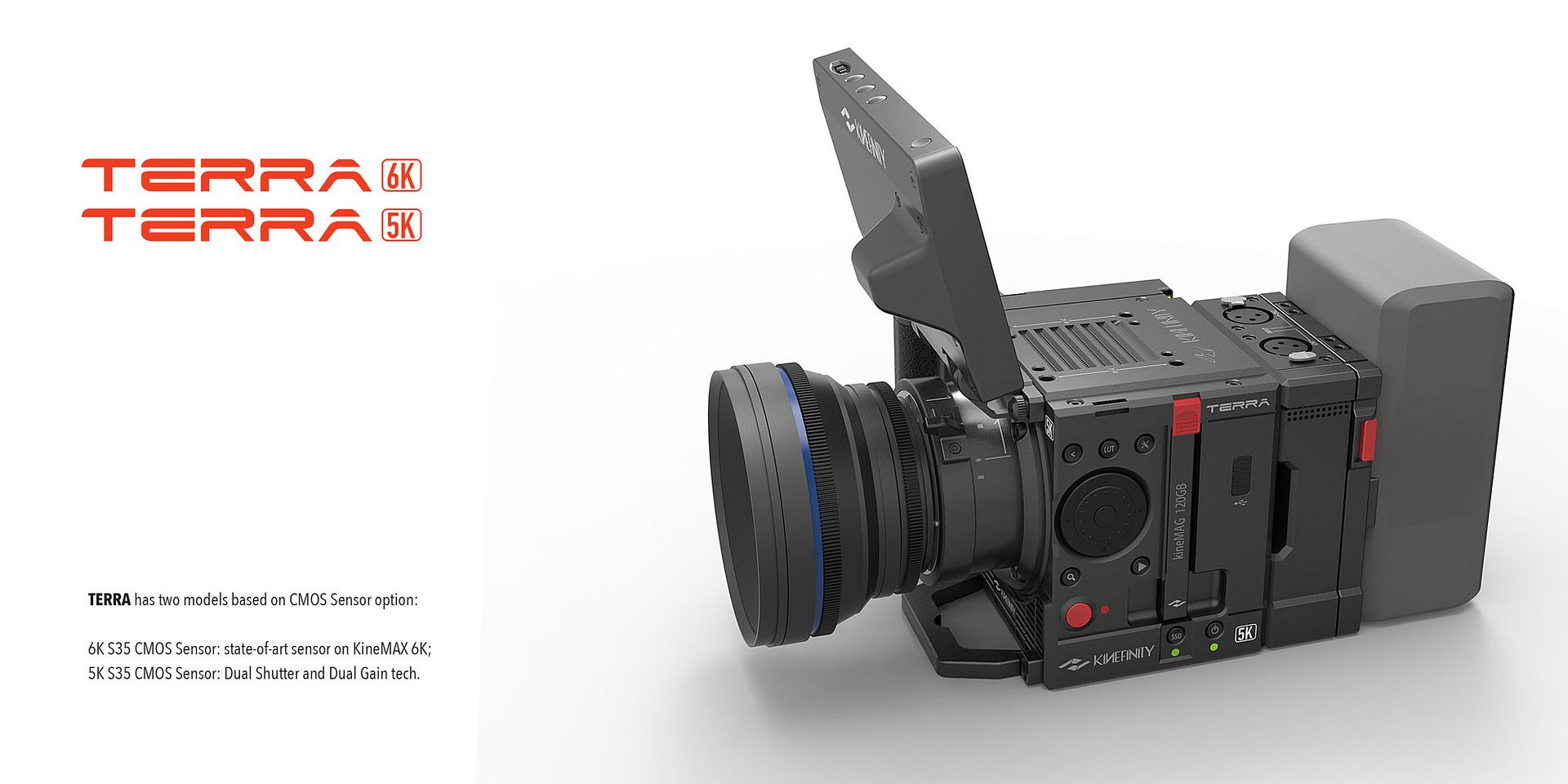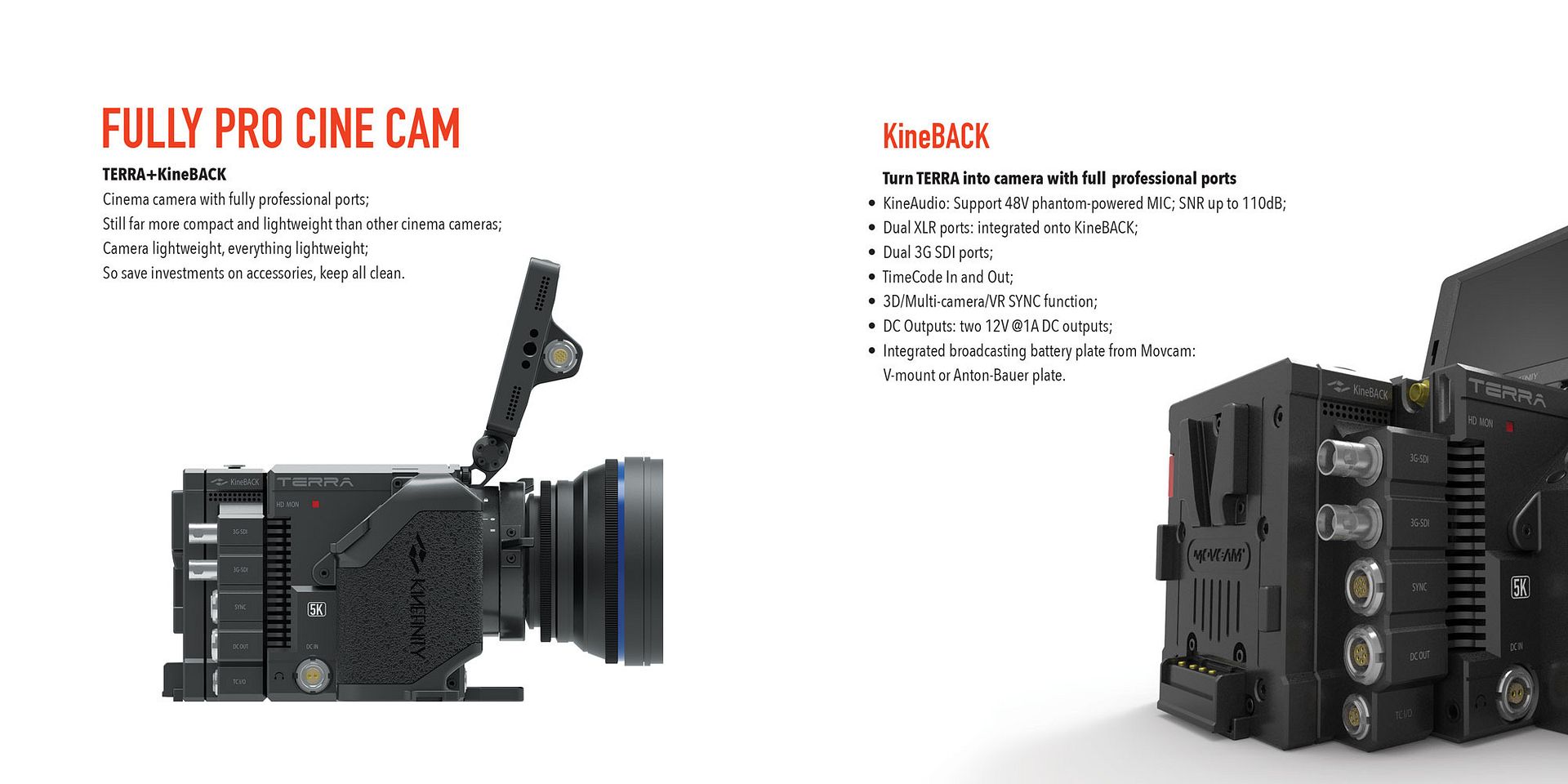 Note: from now on TERRA cameras can only be ordered with built-in KineMOUNT.

Kinefinity's KineMOUNT - you can use different adapters (EF,PL,Nikon) from KInefinity and you are flexible with your lenses. You can not use the camera only with the Kinemount and without Adapters.





Special Discounts: FREE SHIPPING* on the Terra Camera Package to any destination in Europe.

* shipping to countries outside of the European Union may induce additional customs duty fees and customs brokerage fees, these are at the charge of the receiver of the package.


There are 3 packages for TERRA, please select your package above.




All Prices are Exclusive of VAT

SPECS OF TERRA 6K

RESOLUTION, FRAME RATE AND CODECS
Image Format
Format
Resolution
max fps@KineRAW
max fps@ProRes
S35
6K HD
5760x3240
30
30
6K HD Wide
5760x2400
30
40
4K HD (Oversample)
3840x2160
N/A
30
4K HD Wide (Oversample)
3840x1600
N/A
40
4K HD (HiSpeed)
3840x2160
74
74
4K HD Wide (HiSpeed)
3840x1600
100
100
Golden 3K
2880x1620
30
30
Golden 3K Wide
2880x1200
40
40
M4/3
4.3K 4:3 Anamorphic
4320x3240
30
30
4K 4:3 Anamorphic
4096x3072
30
30
4K
4096x2160
44
44
4K Wide
4096x1716
56
56
4K HD
3840x2160
44
44
4K HD Wide
3840x1600
60
60
3K HD (HiSpeed)
2880x1620
115
115
3K HD Wide (HiSpeed)
2880x1200
150
150
Golden 2.2K Ana
2176x1620
30
30
Golden 2K Ana
2048x1536
30
30
Golden 2K
2048x1080
44
44
Golden 2K Wide
2048x860
54
54
Golden 2K HD
1920x1080
44
44
Golden 2K HD Wide
1920x800
60
60
S16
3K
3072x1620
59
59
3K Wide
3072x1280
75
75
3K HD
2880x1620
59
59
3K HD Wide
2880x1200
75
75
2K (HiSpeed)
2048x1080
170
170
2K Wide (HiSpeed)
2048x800
200
200
2K HD (HiSpeed)
1920x1080
170
170
2K HD Wide (HiSpeed)
1920x800
225
225
16mm
2K
2048x1080
88
88
2K Wide
2048x860
110
110
2K HD
1920x1080
88
88
2K HD Wide
1920x800
118
118
Note: Frame Rate can be adjusted as 6~MAX fps, step accuracy of 0.001fps.
---
TECHNICAL SPECIFICATION
Camera Type
S35mm Film-Style Digital Cinema Camera
Sensor Type
6K S35 Format CMOS
Shutter Type
Rolling Shutter
Lens Mount
New Lock-Style EF Mount/Ti Alloy PL Mount/Ti Alloy KineMOUNT
Record Formats
Codec Type
Codec Format
Bit Depth
Compressed Lossless KineRAW
.krw
12bits
*All Resolution
ProRes422HQ/422/422LT/Proxy
.mov
10bits
*Major Resolution
Record Resolution
6K
4K(4:3*)
Golden 3K
Golden 2K
5760x3240
4320x3240/4096x2160
2880x1620
2048x1080
MAX FPS
30@6K
100@4K Wide
150@3K Wide
225@2K Wide
Dynamic Range
14 f-stops/16 f-stops
*6K/Golden 3K
ISO
Max Exposure
Base
MAX
80
800/1600
20480
*6K/Golden 3K
Shutter Angle
0.7°~358°
Monitoring
KineMON Port x1
HD Port x1
SDI x2
1080p/720p
1080p/720p
1080p/720p
*SDI applicable on KineBACK
Sync Function
Tally, AutoSlate, Beeper, Trigger, SMPTE LTC, 3D/Multi-cam Sync
*Applicable on KineBACK
LUT
Preset: Neutral/Flat, Support Custom LUT
Record Media
2.5' SSD with x1 Slot
Audio Capture
In-camera MIC; 3.5mm MIC-in; KineAudio* with 48V Phantom Power XLR
*Applicable on KineBACK
Power
DC IN
Consumption
6~19V/KineGrip/Bat Mount*
21W
*Applicable on KineBACK
Weight (Body,g)
990(EF mount)
*Only Body, no Accessories
Size (WxHxL, mm)
115x110x95(KineMOUNT)/115x110x120(EF)
*Without projections
Operating Temp
0°C to +40°C
Note:
ALL SPECIFICATIONS SHOWN ARE PRELIMINARY AND SUBJECT TO CHANGE WITHOUT NOTICE;

Any other trade marks belong to their respective owners.




PAYMENT TERMS:

Full payment must be received before production of the camera package.

Payment via bank wire without additional fees.

Payment via Paypal add. 2% paypal fees to the final price. In this case we will send you a paypal payment request via email, please do not order directly via the shop. If ordered directly via the shop we will send you an invoice for additional 2% paypal fees, until the full payment is covered the order is not considered completed.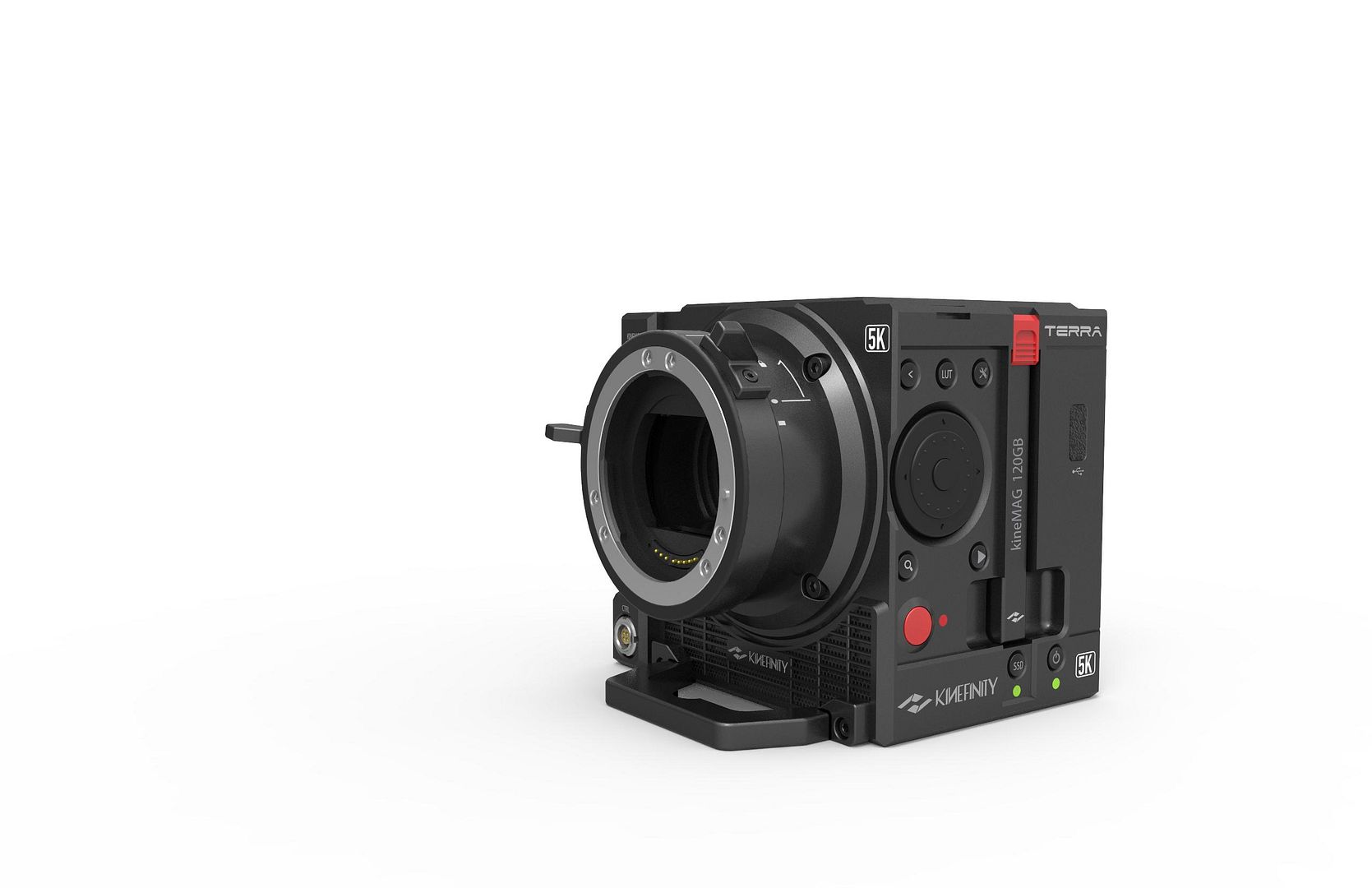 PRODUCT DESCRIPTION BY THE MANUFACTURER:


TERRA, Cinema Camera with high performance, while easy to be used like DSLR for video shooting. It is so light down to 920g! Employing S35 frame CMOS sensor, it can record up to 5K or 6K resolution; 4K slow-mo up to 100fps, 2K slow-mo up to 200fps. ProRes422HQ(.mov) and lossless RAW(.krw) can be recorded in-camera on 2.5′ SSD directly, so TERRA speeds up post-workflow greatly if using ProRes and also keeps max room for post processing if using lossless RAW(.krw).

No Boundaries for cinematographers equipped with TERRA.
Powerful CMOS Sensor: Dual Shutter Modes

TERRA has two versions based on different CMOS sensor: TERRA 5K and TERRA 6K.

TERRA 5K is the only one cinema camera with dual shutter modes in the market. That means TERRA 5K could choose rolling shutter to get widest latitude, lowest noise level and fastest frame rates, and also switch to Global shutter to get zero-distortion in moving situation. The latitude is up to 15 f-stops at rolling shutter, and 13 f-stops at global shutter. 5K@60fps, 4K@100fps, 2K@200fps.

TERRA 6K employs the same 6K CMOS sensor (rolling shutter) with KineMAX 6K. That means TERRA 6K captures same amazing images in wide colour gamut, and same high fps at different resolution. The latitude is up to 16 f-stops at golden 3K/2K, and 14 f-stops at 6K/4K. 6K@25fps, 4K@100fps(HiSpeed mode), 2K@225fps(HiSpeed mode).
Super Lightweight: One-man Job

TERRA camera body is low down to only 920g, and its size is only one half or one third of other so-called MINI cameras in the cinema camera markets. With the lightly more weight and larger size than DSLR, TERRA can work with most of light Gimbal, also handheld. It consumes much less than other cinema RAW cameras, so that it can be powered by BP-30 batteries, for 60~120 mins.

TERRA can work with new designed KineGRIP and 5′ full HD KineMON-5L as field monitor launched by Kinefinity. Then it would be most compact system for handheld shooting situation.
Super Fast Post Workflow: ProRes+RAW

TERRA can record up to 5K or 6K ProRes 422HQ directly to get super fast workflow with very high quality footages: ProRes 422HQ (10bits) is much better than codecs based on H264, and compatible with all post-workflow softwares. Actually, TERRA is the only camera which can record ProRes 422HQ up to 5K or 6K in the market.

For maximum room for grading, you can choose to record clips as compressed lossless RAW as KineRAW(.krw) which is supported by SCRATCH v8.4, and can be transcoded into CinemaDNG and ProRes by KineStation which is a software provided by Kinefinity.

KineBACK Module:

TERRA itself contains necessary interfaces which can meet requirements of one-man job or small team. Attaching KineBACK module to TERRA, the TERRA will includes all professional ports and interfaces for a large crew in production:


KineAudio: supports Phantom 48V MIC, dual XLR ports; Audio DAC SNR up to 110dB;

3G-SDI output for monitoring: Dual 3G-SDI monitoring ports, not for recording;

Timecode input and output: compatible with mainstream timecode devices, like Ambient;

SYNC: 3D/Multi-camera/VR syncing circuits. Just need one cable to turn two cameras into full syncing state (CMOS Sensor scan sync, timecode sync, frame sync and parameter sync);

DC Power outputs: Output dual regulated DC outputs of 12V@1A;

SONY-V or Anton-Bauer battery plate: V-mount battery plate is made of metal with better release button, very rugged for different situation. And the battery plate contains two D-Tap outputs.
Covering so many functions with length of 38mm, perfect matching to camera body.