1092B Bi-Color LED Panels (3 Piece Set)




The CAME-TV Ultra Slim LED 1092B Bi-Color LED Panel is a lightweight, portable, and affordable lighting solution. Also available as a individual set, 3-piece set and 4-piece set, the CAME-TV Ultra Slim LED 1092B Bi-Color LED Panel is the ideal mobile studio lighting solution for any photo, video, or film production. Perfect also as a studio light solution with no cumbersome cords to hamper your creativity. Also available in daylight models.
All CAME-TV Ultra Slim LED's undergo a stringent quality assurance process to ensure durability, illumination, and a perfect color balance for any lighting situation. The CAME-TV Ultra Slim LED 1092B Bi-Color LED Panel has 1092 LEDs. The Bi-Color LED bulbs provide a color range from 3200K to 5600K allowing for creating custom colors to match the environment or creating a targeted look..
All CAME-TV Ultra Slim LED Lighting Panels can be powered through industry standard Sony V-Mount batteries, which makes them perfect for both studio and remote location productions. Plus, all units come with a built-in dimmer that gives you complete control over the brightness of your lighting setup.
Whether you're a broadcast professional, or filmmaking enthusiast, our CAME-TV Ultra Slim LED 1092B Bi-Color LED Panel is the perfect lighting solution for any of your production needs.
VIDEOS




LED Lights - Thin, Good & Affordable By Tom Antos





PRODUCT IMAGES





Bi-Color LED

FEATURES VARIABLE COLOR: 3200K-5600K
1,092 LED's

ON A 22.8" X 11.4" PANEL
Sony V-Mount battery plate

POWER THE LIGHT PANEL WITH A STANDARD SONY V-MOUNT BATTERY
Sturdy Yoke

QUICK RELEASE HANDLES ALLOW FOR EASY POSITIONING OF THE LED PANEL
Diffusion Filter

GREAT FOR WRAPPING LIGHT AROUND YOUR TALENT
Carry Bag

GREAT FOR STORING AND MOVING THE LED PANELS




WHAT'S INCLUDED





Kit Includes

3PC: 1092B BI-COLOR LED PANEL LIGHTS




3PC: AC/DC WALL ADAPTERS




3PC: DIFFUSION FILTERS




3PC: CARRY BAGS
DETAILS




| | |
| --- | --- |
| Qty of Led Bulbs in Panel | 1092 |
| Box Size | 63*10*35.5cm / (24.8*3.9*14in) |
| Light Panel Size | 22.5*50cm / (8.9*19.7in) |
| Battery plate | 2 Sony V-Mount battery plate |
| Input voltage | DC12V |
| Automatic voltage range | DC11V-DC16V |
| Features | High strength aluminum alloy shell |
PHOTOMETRICS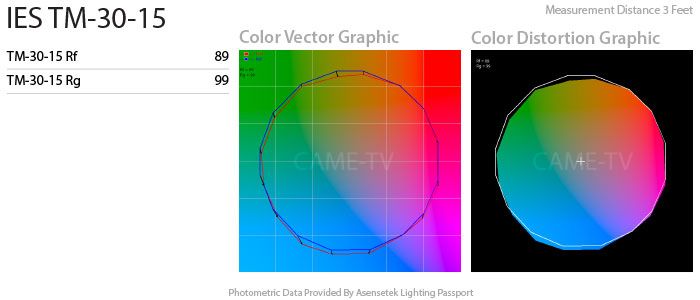 CAME-TV is now embracing the IES TM-30-15, a new method for evaluating light source color rendition. While CRI has been an industry standard, there are many improvements that new TM-30-15 provides including color samples that is more representative of real-world objects. CAME-TV continually strives to provide accurate and informative data about our light sources and the TM-30-15 is a means for us to accomplish that. We used an Asensetek Lighting Passport LED Spectrometer to gather the photometric data. When comparing data from other sources, please ensue that they are using a credible tool to measure the light source.