NOTE: This unit was used in our showroom for demo purposes. It is entirely like new and fully operational.





PDMOVIE Remote Air Pro
PD3-P1



The design has been developed but the simplicity of the PDMOVIE remote air first generation still remains
Extreme simplicity is what we adhere to interms of design at PDMOVIE. A unibody concept is used to gain the sleekest of designs with the REMOTE AIR PRO, not a single screw can be seen on the remote control body resulting in a true sense of comfort and style.
High-precision Brushless Motor
The new German imported, high-precision brushless motor runs smoothly even at high speed rotation, scarcely making a sound. It is PDMOVIES most professional standard motor. Due to the fine internal structure, the controller motor accommodates both receiver and driver, making it lighter, thinner and as compact as possible.
Connectivity
The new REMOTE AIR PRO is built to withstand harsh environments, including extreme weather, severe shaking and long-term operation. With the use of the new aviation locking plugs it can maintain the stability and safety of performance for a long time, The cable is designed for power and signal transmission for convenience.
Two types of Motor available.


The AIR PRO REMOTE offers two kinds of motor. Only one motor/receiver is required for single channel use and the standard motors can be added for dual and triple channel use.
The controller motor - State of the art brushless motor, with a bult in receiver, reduces size and weight.
The standard motor - suitable for focus, zoom or iris control.
The cable powers and transmits from the controller to the standard motor, by daisy chaining the motors you can have unlimited in series connections and giving you unlimited channels, making this wireless follow focus ideal for 3D filming operation where everything needs to be doubled.
Lighter, thinner and more robust.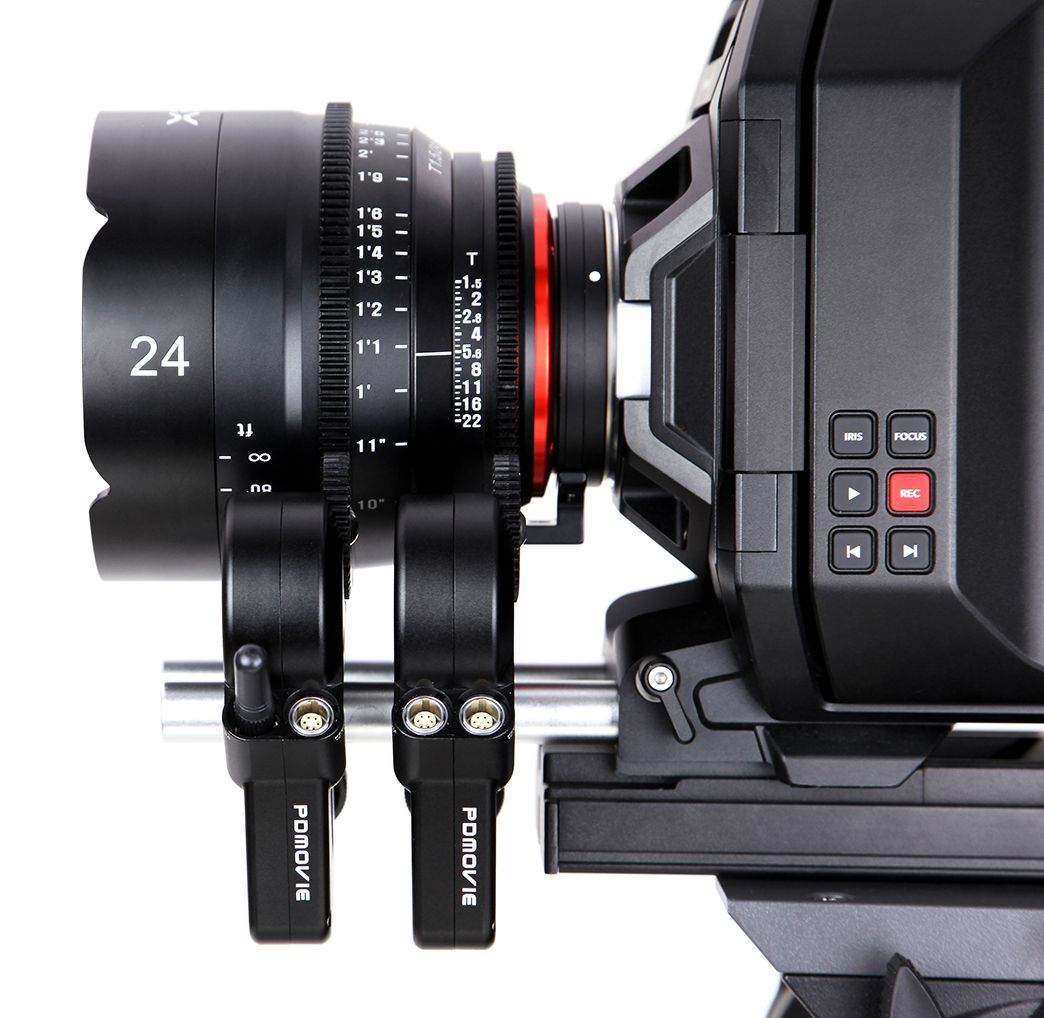 We have controlled the weight of the motor, weighing a modest 170g. Thats 430g lighter compared to the 1st generation EF motor and 600g lighter compared to the max motor. The high torque, robust motor, much stronger than prevoius designs, can operate any lens on the market from affordable stills lenses to high-end cine lenses.
It is PDMOVIES thinnest, lightest motor ever. Using high-end brushless motors for a silent and accurate result, perfect for gimbal and steadicam work thanks to its low-profile design measuring only 19mm thin.
Long battery life



The REMOTE AIR PRO controller has a built-in large capacity battery which can last for up to 60 hours at a time. An added feature includes the ability to use a mobile power supply when your power is low.
The controller also has the ability to charge your IOS device, When the controller is low on battery it will cease to charge your device but continue to operate. These features were designed for the operators peace of mind.


REMOTE AIR PRO Compatibility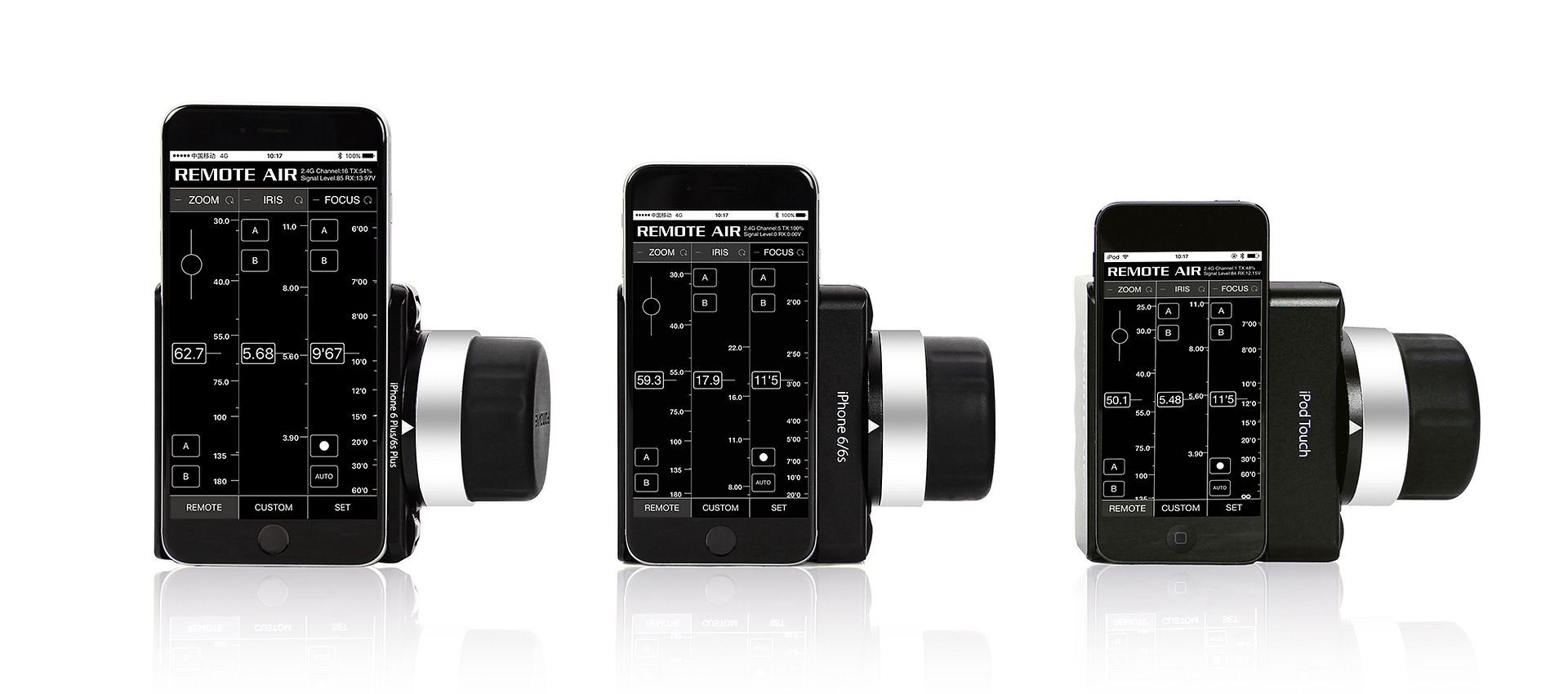 The remote is compatible with iPhone 6 s / 6 s (6) Plus (6 Plus)/iPod touch, or use a WATCH to operate, in order to use a different model of mobile phone all you need is to replace a small accessory clamp.
Fine sensitivity for highly precise and accurate focus pulling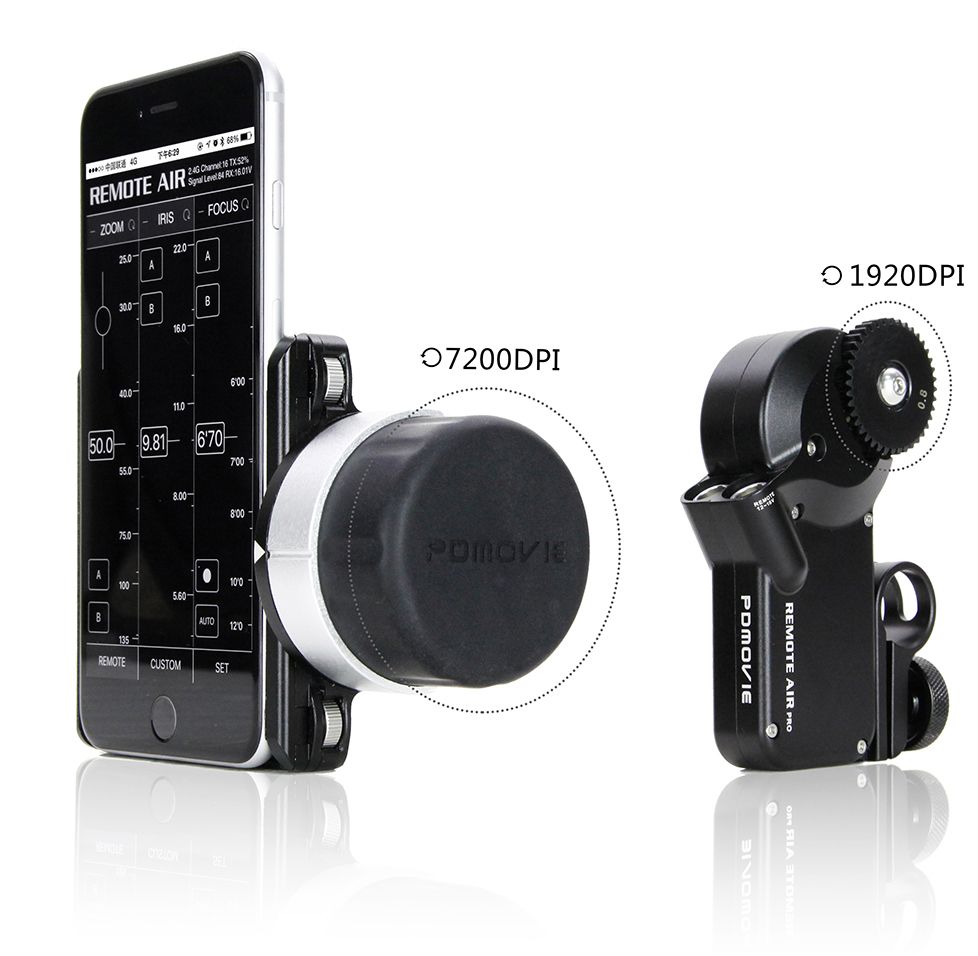 The new REMOTE AIR PRO controller handwheel has a resolution of 7200 compared to first generation which has a resolution of 500 making it 13.4 times more precise. It offers fine sensitivity for highly precise and accurate focus pulling, a slight rotation can be clearly displayed on the OLED screen, even the subtlest of twists will be recognised.
Convenient Lens data preservation and updating



The REMOTE AIR APP has a large database of lens parameters which is constantly being updated, a vast number of stills and cine lenses are available for your reference and convenience.
Accessible from your account on different IOS systems enabling you to back up and share your lenses to the database.
Faster wireless connectivity, more stable signal transmission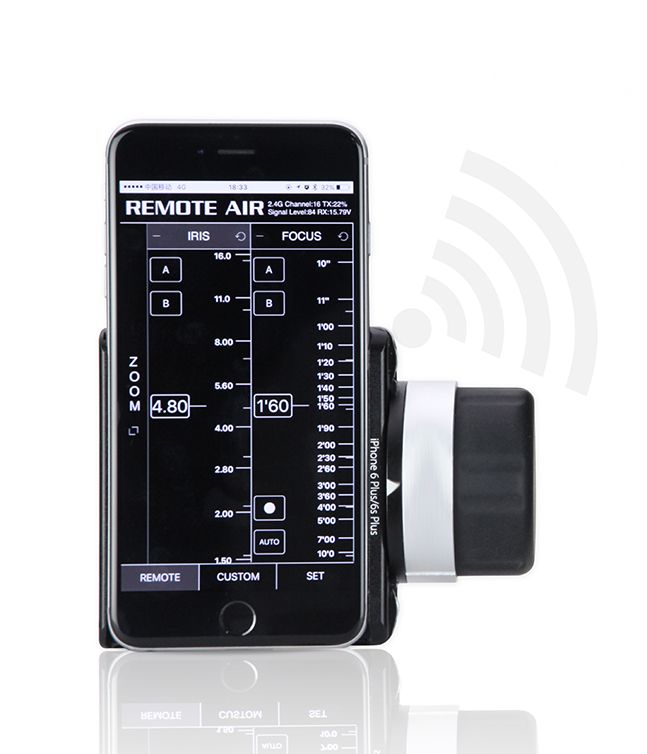 Through the APP, your IPHONE is connected to the controller through Bluetooth 4.2 wireless technology, and the controller is connected with the controller motor through the 2.4GHZ wireless technology and the full duplex mode.
As a result the signal is constant, without delay, supporting a transmission distance of up to 100M.


Hardware and Software Interaction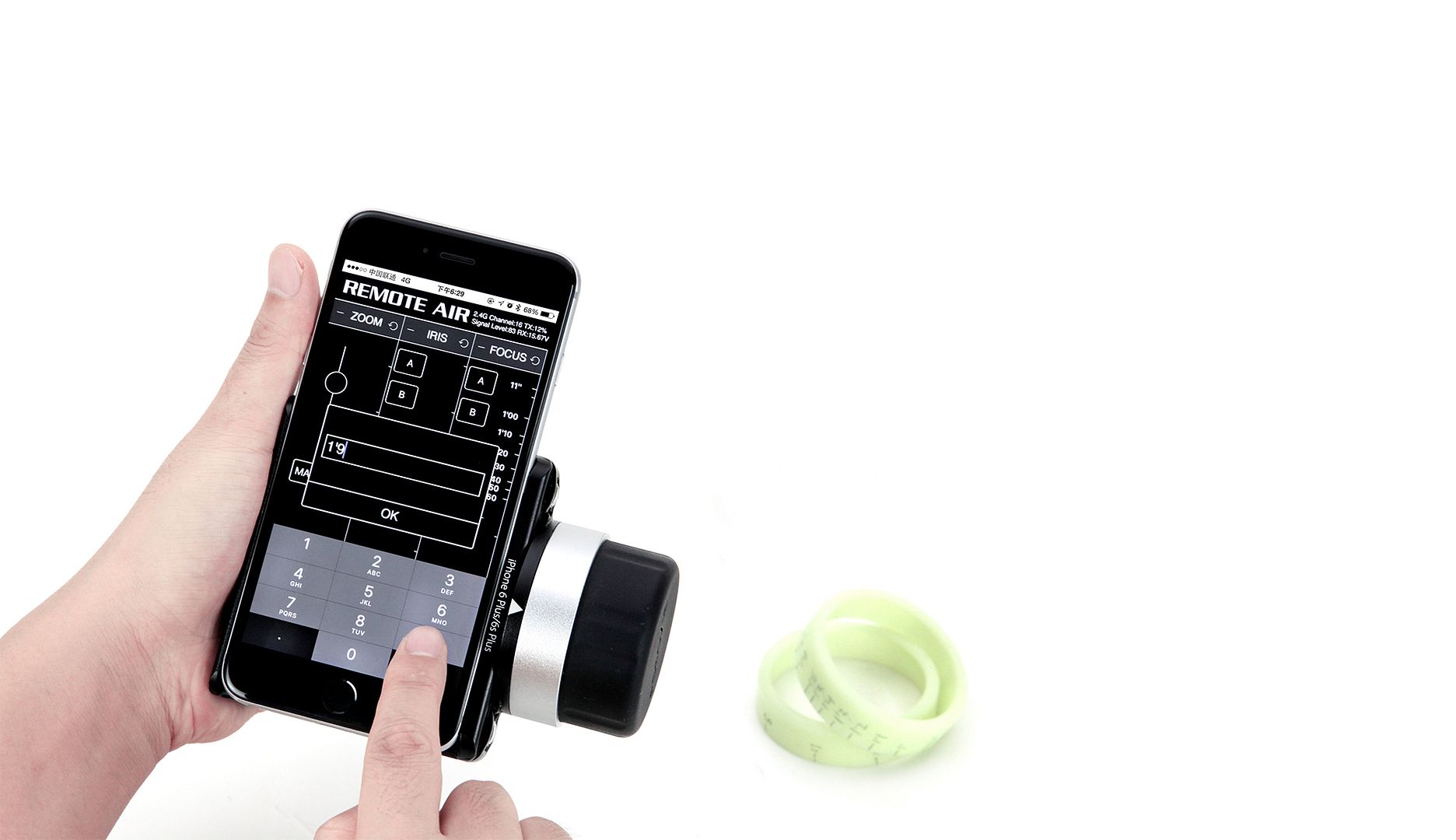 The design allows for a comfortable experience. The system has two methods to drive the motor, by using the rotary control handwheel or by using the touchscreen interface on your IOS device.
The new APP interface eliminates human error as you can mark the lens parameters directly on the APP for complete precision. There is also the option for a more traditional approach with the luminous marker ring to mark your lens points.
2D, 3D also apply


REMOTE AIR PRO not only can control each channel separately, And also can be used to switch the two motors to the same channel as the 3D synchronization.

Future, unlimited expansion, unlimited potential


To make the REMOTE AIR PRO unparalleled in quality we have achieved improved hardware capabilities, added custom presets, reduced side and weight whilst still maintaining maximum strength and durability. Future updates will be available for the firmware. Experience the potential of the REMOTE AIR PRO!
Features:
• Compatible with Apple iPhone 6, 6s, 6 Plus, 6s Plus and iPod Touch
• 6000 mAH controller battery (5x capacity of the iPod Touch)
• Motor and transmitter combined into a single device
• Communicates through 2.4 Ghz wireless protocol
• New and improved motor design
• Ergonomic handgrip
• Up to 3 channels available
• 20 User-selectable communication channels
• Numerous lens presets for popular cinema lens models
• Intuitive software app and future firmware updates
• 3 Speed Modes
• Motor mounts to either 19mm rods or 15mm rods (with included adapter)
• Power your Apple device through the 5v USB power outlet (cable supplied)
• Rugged weatherproof design

Specifications:
Wireless Control Unit:
• Weight: 0.264kg / 0.58 lb
• Dimension: 5.07 x 3.78 x 2.71 In
• Compatibility: iPhone 6/6s, iPhone 6Plus/6sPlus, iPod Touch
• Power: 5v Charging Input/Output
• Auxiliary Power: Power Apple device via included Lighting Cable
• Display: OLED
• Sync: Bluetooth (Apple Device) 2.4 Ghz Wireless (Receiver)
• Control: Zoom, Iris, Focus (Single Function per motor)
Controller Motor(PD3-CM):
• Weight: 0.22kg / 0.47 lb
• Dimension: 4.3 x 2.7 x 1.2 In.
• Power:12-18V Power Input
• Gearing:0.4m, 0.5m, 0.6m gears included
• Speeds: Three selectable torque levels
• Mount:15mm or 19mm (15mm requires included adapter)
• Safety Function:Emergency motor halt function integrated



Included:


1x Integrated hand control unit
1x Receiver / Master motor(PD3-R)
1x D-Tap Power Cable (6 pin)
1x USB Charging Cable(4pin)
1x Lightning to USB connecting Cable
1x USB Charger
1x iPhone 6 / 6s Clamp
1x iPhone 6 Plus / iPhone 6s Plus Clamp
1x iPod Touch Clamp
1x Gear Kit(0.4M, 0.5M, 0.6M)
1x 15mm / 19mm Adapter Ring
3x Glow in the Dark Marking Disk
3x Antenna
1x 3mm Hex Key(M5 screw – 1pc)
1x Lanyard
1x Hard case